Derby Braid &amp Trimmings is a business to business company and is therefore unable to trade directly with members of the public.&nbsp




Anyone is welcome to browse the site but trade pricing is only available to previously authorised trade users. In order to register for an account you will need to be verified by ourselves. If you are a trade user please visit the "My Account" page and apply for a "Trade User" account.&nbsp




As soon as we have authorised your application you will be sent an email confirming that you can log-in and view trade pricing.




Our minimum order is £25.00 net, if you place an order for less than this amount we will have to charge a surcharge of £5.00 for processing this.




ALL ORDERS WILL BE SUBJECT TO THE NORMAL RATE OF VAT PLUS A STANDARD CARRIAGE CHARGE AS FOLLOWS:

ENGLAND / WALES £5.95&nbsp

SCOTTISH LOWLANDS £5.95

SCOTTISH HIGHLANDS / ISLES £14.50

ISLE OF WIGHT / ISLE OF MAN £10.00

NORTHERN IRELAND £13.95 UP TO 2 KILOS - ANY ADDITIONAL WEIGHT WILL BE CHARGED &amp WE WILL ADVISE YOU PRIOR TO SENDING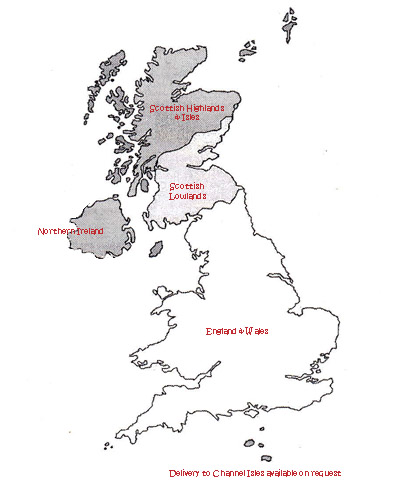 PLEASE NOTE WE ARE ONLY ABLE TO SHIP TO UK ADDRESSES.&nbsp
Please email us to arrange prior to requesting an account should you have any queries.We accept most major credit cards, except American Express.&nbsp
For mail order you can send cheques or pay by credit cards. Cheques must be cleared before goods are despatched.
Prices quoted on the site may be subject to change due to us experiencing various increases from our suppliers.&nbsp
All efforts are made to maintain prices but occasionally we may have to amend on receipt of order prior to despatch.
PRIVACY POLICY
Once an order dispatched we do not hold credit card details on the system they are deleted automatically. The information we hold is of that provided including:&nbsp
Business name &amp address
Name of contact
Telephone number
Email address
A pin number generated by yourself that we can use to identify ourselves should we need to contact you.
Your password is held on the system but is not visible to ourselves, if you forget your password we can send a reset for you if you contact us.